Walk of Peace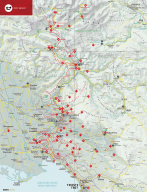 The Church of the Holy Spirit in Javorca will not only enthuse you with its historical message and incredible construction. From the terrace next to the church, there is a view of the mighty Rdeči rob, the charming chain of the Tolmin – Bohinj mountains.
This church is one of the selected sites along the Walk of Peace from the Alps to the Adriatic Sea which connects the historical heritage of the Isonzo front all the way from the Triglav National Park to the Adriatic Sea. Today, these sites, which were marked by World War I a century ago, represent the heralds of peace with preserved outdoor museums, trenches, caverns, memorials, military cemeteries, museums and other dark shadows of war.
The Walk of Peace is appropriate for everyone; you can visit it on your own or in the company of experienced guides. Accompanied by impressing views of the highest Slovenian summits, the Soča River, vineyards, the Karst Region and the Adriatic Sea, you will be able to remember your ancestors, explore the history, hike and cycle around and become inspired by the beautiful nature and the globally important remnants. The Walk of Peace from the Alps to the Adriatic Sea is turning into a long-distance hiking trail, which is also spreading the memory and message of friendship among different nations.
The Walk of Peace from the Alps to the Adriatic Sea was placed on the UNESCO's tentative World Heritage List because of its promotion of the heritage of World War I in the territory of the Republic of Slovenia.
Information about the Walk of Peace:
Ustanova "Fundacija Poti miru v Posočju"
Gregorčičeva 8, 5222 Kobarid
T: 05 389 01 67
E:
www.potmiru.si